Our Services
We offer a range of specialized services and equipment
Team Service, Electronics, Office Furniture, Temperature controlled and Bulk Tanker Service.
Satellite Tracking, Sliding Axel Trailers, Air Ride Tractors and Trailers, 24 foot and 26 foot expedite trucks offering power tailgate service.
At Inter-Citi Logistics our operations consist of two main divisions, IT Hardware Logistics and Bulk Transportation. We initially started off with the IT Hardware Logistics but then saw a need in the market for Bulk food Transportation. Both of our divisions are operated out of our Toronto office.

IT Hardware Logistics
The IT Hardware Logistics division engages in transportation of IT hardware such as computers, servers, printers and other hardware to and from our clients office. We facilitate the storage of equipment on a need basis. Our storage system, coupled with our logistics enable us to provide Just-in-Time service for our clients, eliminating any storage need for them.
Bulk Transportation
The Bulk Transportation division is involved in transporting goods in the food industry, mainly edible oil. Inter-Citi Logistics employs the latest technology and safety method to move our goods. We are in compliance with all the rules and regulations related to the industry and provide our clients an ultra safe method of transporting their goods.
The Solution to all of your Transportation Needs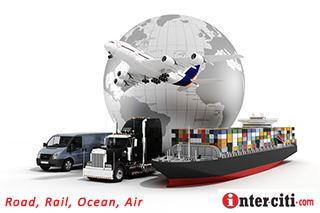 Our competitive Edge is our ability to customize and provide innovative transportation solutions offering flexibility, reliability, which is cost effective..
Short & Long Haul Service
Truckload
Less than Truckload
Temperature Controlled Vans
Warehousing
Cross Docking


For sales inquiries please email us at sales@inter-citi.com
or Call (416) 410-6195